A bit of a tease…. I sent the menu and dates out for our next supper club to our mailing list late last night with the intention of posting here this morning, but all places have now gone. Here it is anyway to try to tempt you onto the mailing list for next time (or the waiting list for this time, we do get cancellations).
The aim of the supper club is to cook the food that is in season in our gardens and allotments (we can't supply it all from there – tho we are getting better at this – but use local organic sources where we can't). It's just meant to be a lovely meal from the sort of things we are growing.
Currently we hold the supper club at my house in north Bristol, and maybe this time out on the veranda if we're lucky with the weather. We make it sparkly and beautiful. Suggested donation is £30 and it is BYO bottle but there is a free cocktail on arrival. Follow us on twitter at @LiaandJuliet and email liaandjuliet@gmail.com to put yourself on the mailing list for the next one.
~
August 10th menu
~
Lemon verbenatini with lemon verbena sherbet
~
Clear broth with allotment harvest vegetables (ham hock broth OR vegetable)
Sourdough bread
~
Potted cheese with dill cucumber pickles
~
Gnocchi with roast baby fennel and fennel sausage
OR
Gnocchi with broad beans, mange tout, peas and ewe's curd
~
Peach melba
~
Green fennel seed fudge
Mint tea
~
.
We held our Spring Supper Club a couple of weeks ago (click here if you don't know what I'm on about). I always like to make a petit four, an after-dinner frippery, which stems from the fact that I would most probably make it an 'Afters Club' if I possibly could. So two puddings suit me. But when you're trying to use the sort of ingredients found in your garden – as we do – sweet things are TRICKY in spring, when really all you have to play with is rhubarb. So for pudding I went for sweet flavours, rather than fruit, and we had scented lemon geranium posset with lemon geranium sherbet, and bolstered the whole thing with orange thyme shortbread. Plant-based St Clements stylings in posset/shortbread form. It was pretty fine.
That left rhubarb available, and I had to blog this, because I think it's the best thing I've ever made: home-made jammy dodgers filled with rhubarb and vanilla jam, to have with tea. Adding vanilla to the jam gives it a creamy, custardy taste, which obviously makes rhubarb very happy. The tiny black vanilla seeds suspended in the dusky pink jam made for about the most beautiful jam I have ever seen, and there's plenty of competition.  The biscuits are buttery, smooth and full of vanilla themselves. Altogether a HIT.
Obviously you can substitute this for any kind of jam as the season goes on – I rather fancy a gooseberry jammy dodger – but I found the recipe for my jam here.
And here's the recipe for the biscuits:
110g softened butter
50g icing sugar
1 egg yolk
1 teaspoon vanilla extract
150g plain flour
25g cornflour
1/2 teaspoon salt
Preheat the oven to 180 C / Gas 4 and line a baking tray with parchment. Cream together the butter and icing sugar, then add egg yolk (then mix), vanilla extract (mix), flour (fold), cornflour (fold), salt (er…mix). You are left with nearly a dough and need to use your hands to JUST bring it all together while being careful not to overwork. Biscuits want snap, and kneading makes for less of it. Roll out to the ubiquitous £1 coin thickness, and start cutting. I used my smallest cutter for cuteness but you could make them bigger. I made the hole in the middle with the tube that had held the vanilla pods and used the end of a straw to make the pattern on the top. You don't need me to tell you to make the same number of plain bottoms and fancy tops, right…? Bake for about ten minutes. You want them pale, still. Cool on a rack, assemble whenever, and serve to *thrilled* guests.
If you are interested in finding out about the next supper club menu and dates before the rest of the world, please do sign up for our mailing list liaandjuliet@gmail.com . There will be more of this kind of thing, but over flowing with summertime garden bounty next time. Fun, fun.
PS We are in north Bristol. I always assume that people know – though there is no reason in the world that they should – and have to disappoint a couple of Australians. And I hate that.
These pictures were from a little while ago, but it's snowing again so I reckon I can slip them past you unnoticed…
We went on a walk in the snow and found these little phrases inserted into gates. Only two, which seems odd. Maybe we should have looked harder. I immediately thought of Sarah Salway, as it is the sort of beautiful thing people actually pay her to do. Tough job eh, but someone's gotta. I most probably took these pictures and wrote this for her, but you can look too.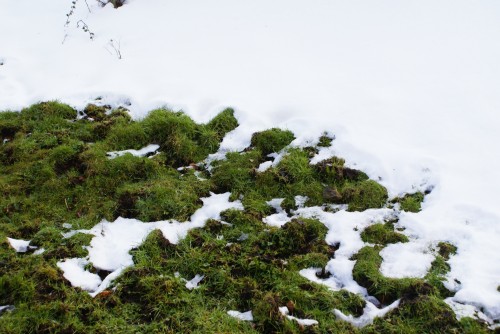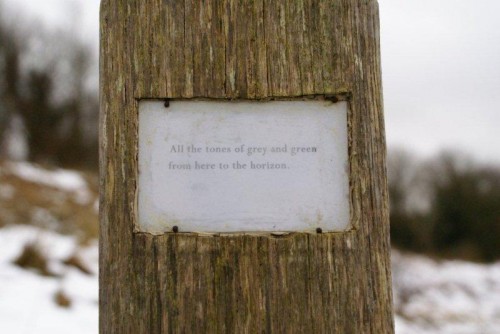 .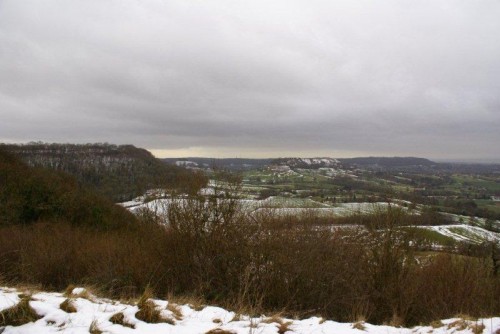 .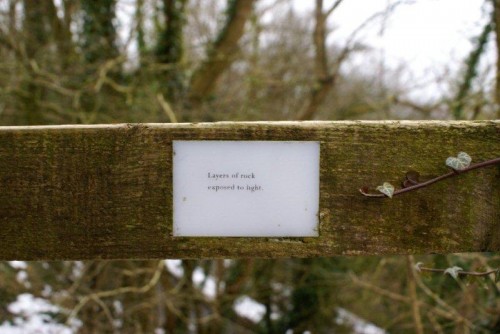 .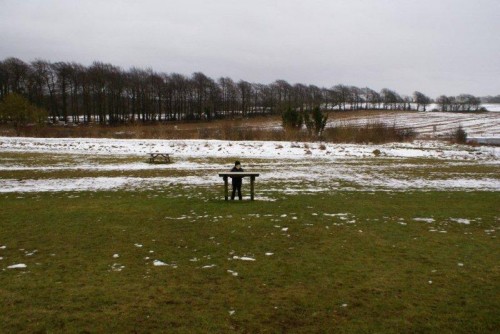 .
I'm not great at the off-the-cuff, at riffing, or general spontaneity. When I worked in a job where I had to attend meetings in which ideas were 'just thrown around', I would sit there, silent and awkward and blushing. I like to think about what I want to say, and ideally go back and edit it and put it better, and then go back again and take a few more words out and THEN – maybe – show it to the world, which is why I am a writer and not a QVC presenter. I'd make a truly horrible QVC presenter.
And as a result I've always rather envied those that have the ability to improvise. I harboured a dream of being a jazz pianist for a while, and even thought about applying for a course. Yes there are courses! Though naturally that's not the *real* way to become a jazz pianist, which has something to do with whisky and heartache. In truth I still harbour a dream to become a jazz singer, but though I know I can follow the notes and sing them not bad, that Ella- or Billie-like trick of giving each and every rendering of the song it's very own little unexpected twist would elude me. Maybe they sat quietly and practiced each variation in advance, but I don't think so.
But there is one thing I can improvise, and that is cake. I can remember the very moment I decided to teach myself. It was when I ate a piece of my friend Ellen's carrot cake and asked for the recipe, at which she said, all casual: 'oh I just made it up.' I want to be like you, I thought.
There is most probably a key to piano improvisation, which is how they can teach it in a night class in Henley-upon-Thames. There is a key to improvising cake, and I found it at my daughter's nursery two years ago. I was asked to come in to help with making fairy cakes, just to be an extra adult pair of hands, and the children were given a very simple set of scales and an egg. They put the egg on one side of the scales, and then in the other side weighed out equal amounts of first sugar, then butter, then self-raising flour. That's it. It's that simple: it's equal weights of everything. You mix them all together (I mostly don't cream the butter and sugar first as long as the butter is soft enough, just put it all in a bowl and go in with the electric mixer, but please feel free to tell me if you think I really should be. I'd love to know why), then pour them into a big cake tin lined with butter and parchment, or little cases, and cook at around gas mark 5 for as long as it takes.
Now once you've got the basic hang of this you can start riffing. If it's summer and you've got some soft fruit to mix in you can take out a bit of the flour and replace it with ground almonds, and put in some vanilla extract to make a summery, crumbly, aromatic cake dotted pleasingly with berries. If it's autumn and there's a chill in the air and some apples to chop in then some of the flour will be wholemeal, and you might put in sultanas and cosy cinnamon or nutmeg, and top it with crunchy demerara sugar. Or you can grate lemon zest into the mix, and once it's in the oven mix a big spoonful of sugar into the lemon's squeezed juice and leave it to sit so that it turns itself into a slightly crystally syrup to pour over the just-baked top of the cake. Once you've got the feel for how gloopy your basic mix should be you can swap one of your eggs for some yoghurt, to make it smooth-textured and velvety. Or you can swap some of the sugar for honey to change the type of sweetness. And on, and on.
There must be many other ways to alter the texture of the cake. I'm only just beginning. I know not every cake sticks so rigidly to this 'equal weights' thing and I'd love to really get a grip on the difference. But that's advanced improvisation and I'll come to that. For now this works, and each and every cake I bake is very slightly different.
I won an award last week. I am now Practical Journalist of the Year,  as awarded by the Garden Media Guild, for pieces I wrote in the Guardian. 'Practical' journalist is a bit of a funny one. It implies I've been writing particularly clear step-by-step instructions on how to dig a hole, when actually I've been writing about my ideas for environmentally friendly lawns, the unconventional ways I recycle waste in my garden, and the crops I produce on my veranda. As I now have my new whizzy website you can see the three features for which I received the award here, under 'The Guardian', should you be so inclined. Not a hole among them, see? SEE?
I was properly unprepared speech-wise, but remembered to thank Jane Perrone, who edits the gardening section of the Guardian Weekend mag. It was only after that I realised I should have given a mention to the lovely Joel Redman who always takes the pictures. Weekend's standard request is for him to produce 'graphic' images, which makes everyone blush a little and start talking about the weather. In fact he has never once asked me to loosen my top button, but does manage to conjure clean space and strong lines and render my chaotic garden Weekend-Mag-friendly.
GMG awards time is always a little odd. I know well the disappointment of not being shortlisted, and how random the judging can seem if you don't get a whiff, how spot on if you do. I think I even got a little told off last time I won one for running around twitter going on about how great I was. So I will just say that it feels good, and that when you earn your living from doing this it is a particularly big deal. Other than that I will confine myself to a little Mona Lisa smile every now and then, and I definitely wont assemble a gospel choir, climb into a boxing ring and do this:
No, almost certainly not.
Here find my brand new blog. Welcome! I have a new blog because I have a new website, and the blog – once a place to earnestly express the issues burning in my breast – now serves as a cynical method of luring you into my marketing machine. In fact, this website had been created to put all the things I do together in one place and make me look ultra-busy and professional, and so to impress potential employers so much that they spontaneously offer me interesting and well-paid work. It isn't really intended for the likes of you, but hey, you're here now so you may as well have a look around. (Only joking: I'm desperate for your approval).
If you were a subscriber to my old blog (and even if you weren't) I'd be truly delighted if you would pop your details in the email subscriber to your right in order to be kept bang up to date with my vital missives on cakes, things one of my kids just did which made me laugh, allotments and knickerbocker glories.
In early June of this year, just as the dandelions were fading after that first golden flush (that moment when they are so lush you can almost imagine planting them in your border) and were starting to turn into the first wave of dandelion clocks, Ray Bradbury died. I don't know anything about Ray Bradbury except that he wrote my favourite book, Dandelion Wine. I call it my favourite book almost out of habit: in truth there are whole chunks of it I can't remember. I think I cling to it because it is the one whose atmosphere most lingers with me. It is the atmosphere of high summer childhood: that first morning of clear skies and promised heat, when the air smells of possibility and opportunity; brand new pure white tennis shoes on hot pavements; hazy afternoons spent in a ravine on the edge of town, all dust and deep cool shadows.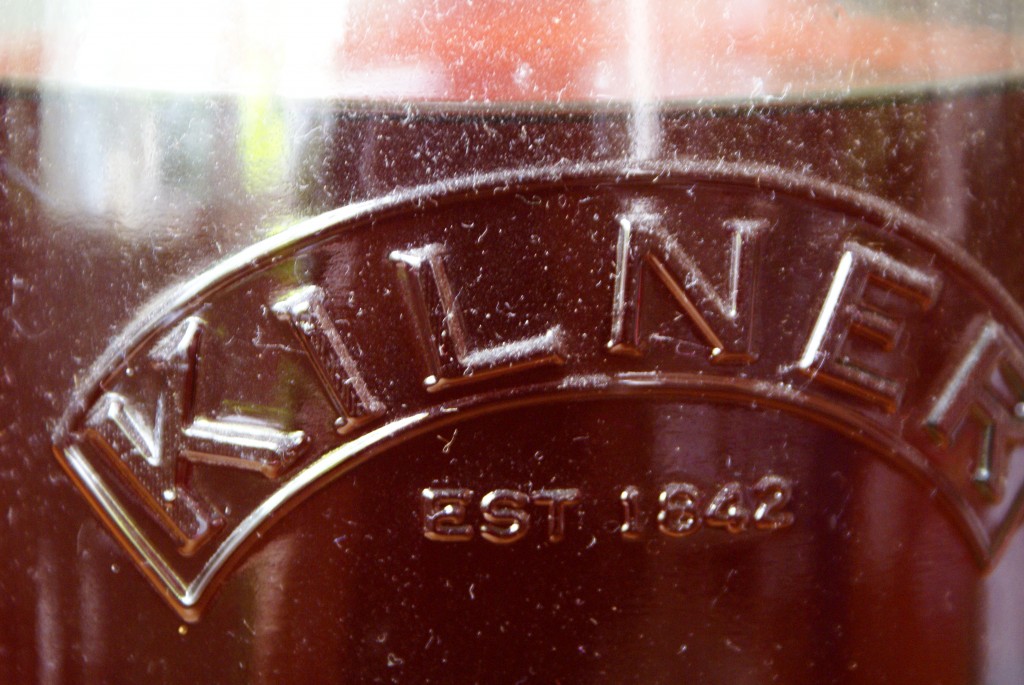 It is chiefly about a boyhood summer, but the grown ups move through it quite magically too, and there is a passage that I think might appeal to the preservers and bottlers and jam makers among you, as it sort of sums up why we do it. I am just at the stage of taking out my huge jars of  last years damson vodka and brandy. They have sat for a year and soon I will strain them off into little bottles and leave them a few months more to sip surreptitiously on cold evenings in front of the fire, and to give away as Christmas presents. When the jars are empty they will wait for the damsons to be ripe. Not long to go now: they already look ready, so a week or two more and they will be. Each jar (recipe alert!) will be filled about a third with fruit, caster sugar poured on until it fills the gaps and covers them a little, then brandy or vodka poured up to near the top of the jar and the jar sealed, put away and shaken occasionally, to slowly – over all that time – turn into something viscous and rich and boozy, and far more than the sum of its parts. This has become my summer ritual. Here (edited a little for space) is Bradbury's take on something similar, the dandelion wine at the heart of the book, and it's just beautiful:
'Dandelion wine.
The words were summer on the tongue. The wine was summer caught and stoppered. Since this was going to be a summer of unguessed wonders, Douglas wanted it all salvaged and labelled so that any time he wished  he might tiptoe down in this dank twilight and reach up his finger tips.
And there, row upon row, with the soft gleam of flowers opened at morning, with the light of this June sun glowing through a faint skim of dust, would stand the dandelion wine. Peer through it at the wintry day – the snow melted to grass, the trees were reinhabited with bird, leaf, and blossoms like a continent of butterflies breathing on the wind. And peering through, colour sky from iron to blue.
Hold summer in your hand, pour summer in a glass, a tiny glass of course, the smallest tingling sip for children; change the season in your veins by raising glass to lip and tilting summer in.
Even Grandma, when snow was whirling fast, dizzying the world, blinding windows, stealing breath from gasping mouths, even Grandma, one day in February, would vanish to the cellar.
Above, in the vast house, there would be coughings, sneezings, wheezings, and groans, childish fevers, throats raw as butchers' meat, noses like bottled cherries, the stealthy microbe everywhere.
Then, rising from the cellar like a June goddess, Grandma would come, something hidden but obvious under her knitted shawl.  The medicines of another time, the balm of sun and idle August afternoons, the faintly heard sound of ice wagons passing on brick avenues, the rush of silver sky rockets and the fountaining of lawn mowers moving through ant countries, all these, all these in a glass.
Yes even Grandma, drawn to the cellar of winter for a June adventure, might stand alone and quietly communing with a last touch of a calendar long departed, with the picnics and the warm rains and the smell of wheat and new popcorn and bending hay. Even Grandma, repeating and repeating the fine and golden words, even as they were said now in this moment when the flowers were dropped into the press, as they would be repeated every winter for all the white winters in time. Saying them over and over on the lips, like a smile, like a sudden patch of sunlight in the dark.
Dandelion wine. Dandelion wine. Dandelion wine.'
Now I dont know about you, but I think this is why I do it. There are practical, sensible reasons, sure, but I think the poetic ones win. Bottlers, wine makers, and preservers, go forth and grasp your last chance to squirrel away a bit of summer now, and when you prise open the lid or pop out the cork come January, raise a glass, a spread, or a pickle to Ray Bradbury, whoever he was.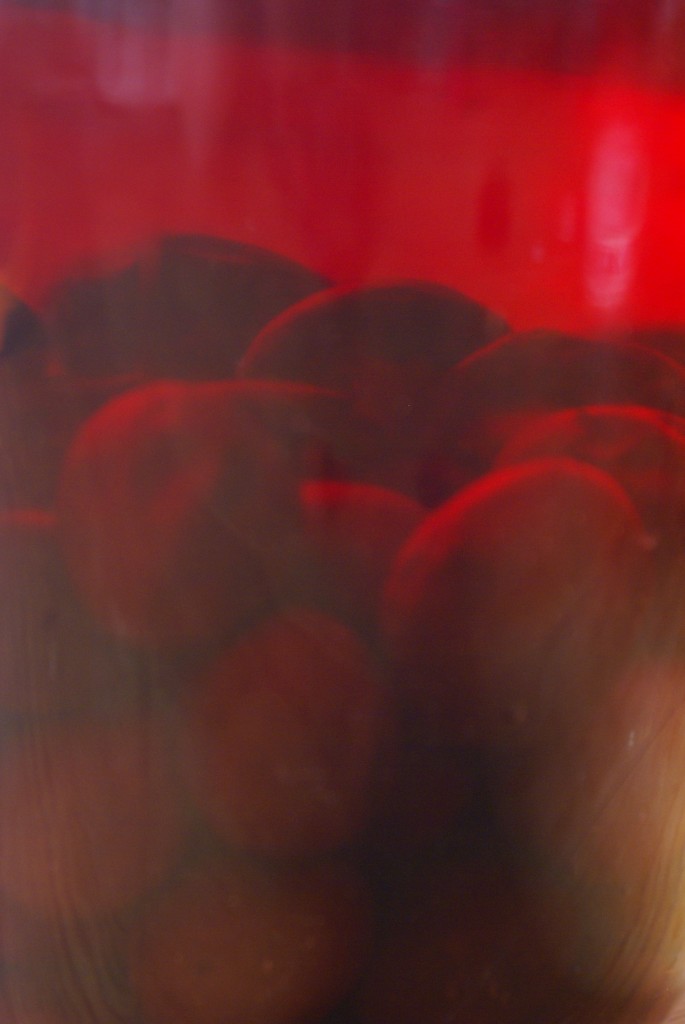 'I always have a glut of gooseberries,' I announced, swaggeringly. 'We'll use gooseberries for the supper club.' Gooseberries are no apricots (still no fruit, nor even flowers), they are not even strawberries (reluctantly bearing fruit to get quickly munched by a tsunami of slugs). They are easy, dependable and even a little over zealous, and are one of the crops I always get just a little bit sick of by the time they call it a season.
Not so this year. The crop was small. Really very small. I wont take my tart lovelies for granted again. Im inclined to blame This Pants Summer (TM) but do tell me if you've had a bumper crop; maybe my old dependables are just getting old and undependable. I think I'd prefer that. It all feels a bit apocalyptic/2012 if even gooseberries can't cope with a British summer.
But it turns out a gooseberry knickerbocker glory is the perfect thing to do with a smidgeon of gooseberries. The beauty of your gooseberry knickerbocker glory – well, one of the great many beauties of your gooseberry knickerbocker glory – is that the sharp fruit is layered with ice cream, sweeter stuff, crunchy things, and whatever delights you can think of to make it go further and to complement and enhance it. Here's what went into mine:
Elderflower ice cream
Shortbread
Gooseberry puree, only slightly sweetened
Chantilly cream (double cream whipped with vanilla and icing sugar)
A few sweet, pink, dessert gooseberries, raw
Crystallised and frozen elderflowers
I wont give you recipes or we'll be here all day, but you get the idea. All of this was made up in advance and spooned, giggling, into the glasses at the last moment. Fun, fun. The sweet pink dessert gooseberries were the clincher: one in the bottom of each glass (like the gobstopper in the base of a Screwball), a layer of chopped ones somewhere in the middle, and one like a cherry on top. We bought a punnet, but if I'm going to be replanting this is where I'll start. They were delicious.
The only essential here is the correct glass – it must look like it has been nicked from a 1950s diner – and the correct long spoon, for delving into the depths. Other than that this is more a blueprint than a recipe. Knock yourself out, play around: have fun with your gooseberry dearth.
I love the above picture supper club guest Jason Ingram took of me and Juliet delivering them to the table, mainly because – by dint of lucking into in the fuzzy bit near the instagram border – I look a bit like something from a 1950s diner myself. I think I must be whipping up the crowd by going 'Ooh!' as I hand them out, and I am planning to go about like that more often as it has done wonders for my cheek bones. JAS has commented elsewhere that Juliet looks like 'a hot Bavarian barmaid', so I reckon she'll be delighted I've reposted it too … Ooh…
Hey look, it's summer! No really…the sun just came out for five minutes and I ran outside and took this picture of herbs and pelargioniums looking summery, so it must be, see? And summer means it's time for our summer supper club. This is the easy one. Spring was a bit of a toughie and winter will be almost impossible, but we'd have to try pretty hard to make this duff… The idea behind the menu is to try to make some delicious things out of those crops that are at their best in our gardens and allotments right now, but if you'll humour me a little I am also planning to make summer garden in cake form with some little petit fours soaked in a rose and honey syrup, like bees buzzing around a summer garden in a mouthful, without the sting, or the fuzzy bits.
Not everything you eat will have been grown by us – we just aren't organised enough for that – but all the little extra tasty bits, the herbs, the edible flowers, the salads and more will be.
The date is Saturday 7th July, 8pm, and the suggested donation is £30. It's BYO bottle but we will throw in one free cocktail on arrival: a mint julep, THE cocktail with which to sit and fan yourself on a porch in heat of the deep south, while rocking lazily on your porch swing. If the weather is vaguely warm (you never know) this supper club will be held out on my verandah (if – big proviso – we can negotiate my really quite massive dining table out of the back door). You will be surrounded by twinkling fairy lights and spicily scented flowers and eat delicious seasonal food. Without further ado, the menu:
.
Lia & Juliet Summer Supper Club
Saturday, 7th July, 8pm
~
Mint julep, served with broad bean pate and mint gremolata crostini
~
Chilled cucumber soup with dill oil and borage flowers
~
Mozzarella stuffed tempura courgette flowers with pesto
~
Roast baby veg tart tatin with allotment veg a la Francaise
~
Small allotment salad
~
Gooseberry knickerbocker glory
~
Mint tea with honey and rose basboosa (Middle Eastern semolina cake) with crystallised rose petals
~
Email us at liaandjuliet@gmail.com to reserve a place or to go on our mailing list, and follow us on twitter @liaandjuliet
I've just been reading about Keith Floyd in an old copy of Fire & Knives. The writer, Cai Ross, was saying that part of the beauty of his seminal 'Floyd on France' series was the way the producers 'begged borrowed and conned their way into various French kitchens, domestic and professional.' Unplanned, these moments required everyone involved to be on their mettle and step up, react well to whatever happened. The result was sometimes chaos, but often magic.
I am just back from visiting Paris, Amiens and Brussels. It was the first leg of a summer-long project which will see me and my lovely/annoying friend Mark Diacono take in nearly 40 amazing allotments and edible gardens, for a book to be published next spring. He's on pictures, I'm on writing. He wrote about it here (all sorted now, btw, so no more entries please. Unless it's really, really, REALLY good).
Most of the trip was perfectly planned in advance. Through French friends, google translate and luck we had managed to communicate with the gardeners in Paris and Brussels. Amiens had proved more tricky. We knew there were beautiful, floating market gardens there, but couldn't find a way in: emails went unanswered, and after a hugely painful telephone conversation in my school-girl French failed to produce any leads, we decided we either give it up or just turn up and chance it. We went for chancing it.
On the map it didn't look far, and in fact we reached the entrance to the 'hortillages' relatively quickly. 'Phew' I thought, having worn really stupid shoes, like a girl. But alas, this was just the gateway to the hortillages, which stretched for miles. The path gave glimpses into gorgeous waterside gardens, all reached via little bridges, each one with a locked gate, surrounded by spikes, with perhaps a soupcon of barbed wire for good measure. 'Take pictures of that one, that'll do' I started to say, pointing at vaguely edible stuff far across the water, feeling the blisters form. I was mocked and we walked on, and on.
After that I decided to make like an arctic explorer, pushing through the pain bravely, with a noble look on my face. We started to find little alleyways between houses which led tantalisingly down to open water, close to the bit marked 'potager' we had seen on a glimpsed map. We could now reach where we needed to be if we had a boat. We don't have a boat. Keep walking.
And then finally, joyously, we came upon a hut to hire boats. I arranged the hire, we popped our life jackets on (here I would have inserted a picture of Mark D in a bright orange life jacket for you, laydeez, had he not threatened to also take one of me for similar purposes, and thus stalemate been reached), and puttered out across the water to the area marked 'potager'. It was nice, very neat, with sweet willow hurdles enclosing weed-free vegetable beds, a little like a museum recreation of the historic market gardens. We were pleased. Mark had already started snapping away when, through a hole in the thick hedge, I spotted a man, perhaps in his 60s, leaning on his fork, once-seriously-good-looking face tanned and lined, eyes twinkly: essentially, everything you want in your French rustic gardener. I took a good five minutes standing by the hole in the hedge to compose my approach, which I believe eventually went [brightly] 'Bonjour monsieur! Nous prenez les photographs pour un livre…' [increasingly less sure] 'um….about… des jardins. C'est possible pour…er…mon ami…um…prenez les photograph a…er…tu – no – vous?' A gallic shrug, an eye twinkle, a grin and we were around the compost bins at the end of the garden and in.
Jean's floating market garden was the real deal – weeds, bits of junk and all – as was Jean, a market gardener who has worked this strange, semi-floating patch of earth tous les jours for dix ans. Somehow I managed to conduct a kind of an interview in French (with a few stumbling blocks: if anyone knows why French gardeners might paint the trunks of their fruit trees white, please enlighten me, it was something to do with them getting chaud maybe and…well, I have no idea, though he really, really tried to explain). Jean was relaxed and uncomplaining while having his photo taken, though he must have been puzzled at the whole thing. He was patient and sweet with my rubbish questions, and a bit of a gentle charmer too: when he cut a beautiful soft pink and yellow rose I pretty much knew it wasnt to take to market. It was late in the day after all that walking so the light was soft, with a sort of underwater quality itself, making for some fairly special photos. It was a mixture of tenacity (more Mark's than mine, admittedly) serendipity, and somehow scraping together the necessary French, and it made for a magic moment. In the book it will seem like it was all planned and sorted beforehand, a fait accomplis (get me. I can't stop now) but it wasn't, and I think it will be all the better for it.