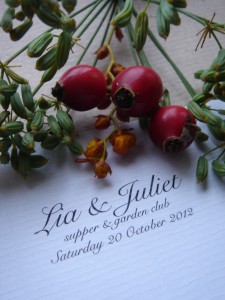 Four times a year – in spring, summer, autumn and winter – I run a supper club from my home and garden with my friend Juliet Roberts. It is a seasonal feast, and very much garden-themed, inspired by the produce that is available in our gardens and on our allotments. We can't supply all our own home-grown veg (we're just not organised enough) but we do grow the little bits and bobs that we think make it all special: young pea shoots in spring, edible flowers in summer, green fennel seeds and nuts in autumn. In winter we make use of preserves we have made from garden produce throughout the year, and the herbs that are hardy enough to make it through the coldest months. It is an exercise in making common and easily grown things delicious.
We start with cocktails and hors d'oeuvres on my veranda (when it's not too cold) and then in to all sit around one big table in my kitchen, gorgeously decorated with seasonal stuff by Juliet. It is an intimate occasion and we do our best to make it a very beautiful evening. We ask for a £30 donation and guests can bring their own drinks.
We have had some great reviews from visiting bloggers, see here , here  and here .
I will post our next menu and dates here, so do pop back from time to time. As numbers are so limited we can sell out very quickly, so join our mailing list by emailing liaandjuliet@gmail.com if you are keen, as we post dates there first. You can also follow us on twitter @liaandjuliet .