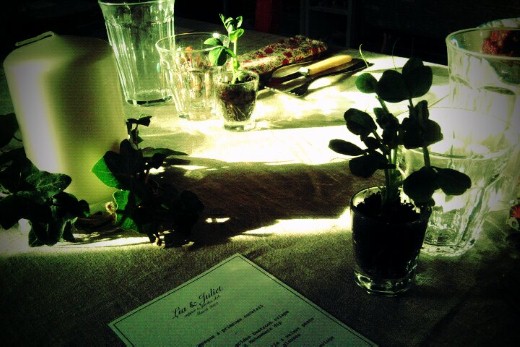 So we did it! Saturday was our first 'Lia & Juliet' supper club and we only went and pulled it off. We took an entire two days off work to chop, blanch, braise, bake and crystallise, and to fiddle with table cloths and napkins and champagne glasses, and to fret over whether our allocation of fairy lights was up to supper-club minimum standard (not, we think, as it turns out. We will remedy). It was huge fun, especially for something we could sort of pretend was work. Some of the things we did were a huge hit, others I think less so. We have learnt plenty of lessons and I genuinely can't wait for the next one (as well as being mighty relieved that we are only doing four a year…).
But in the meantime I thought I'd furnish you with one of our recipes. One of the real hits, rather than one of the near misses: green garlic soup with nettle pesto and pea shoot shot glasses. The idea of the evening was to link it back to the garden at as many points as possible. You can find green garlic in your better class of greengrocer, true, but it is an ingredient you will mostly be able to track down in your own garden, by plucking your garlic before its prime. You lose a lot of the potential bulk that you would have gained in the coming growing season, but you gain a whole other vegetable and a delicate sweet garlic taste, with none of the pungency of the fully formed version. It's quite a decadent thing to do, you racy thing you, but you might do it as a little spring treat for yourself, if you've got plenty growing. (NB: they really are quite small at the moment. You could leave them to bulk up a little and try this in a few weeks time).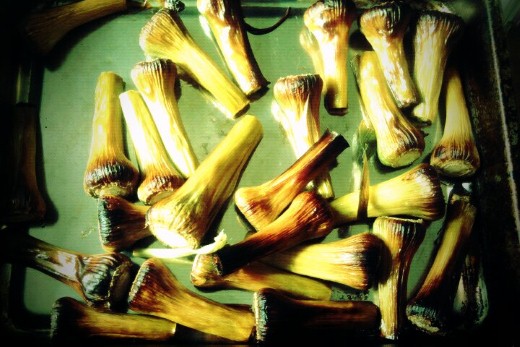 To tease out that sweetness I roasted the garlic low and slow, until the outsides were papery and the innards were soft and gooey. Once they'd cooled a bit those papery parts were peeled away to reveal the insides. I love the look of the thwarted cloves-to-be. Beautiful. Into a vat of stock they went with some waxy boiled potatoes, and all whizzed up. Salt and pepper and a bit of single cream and it was done.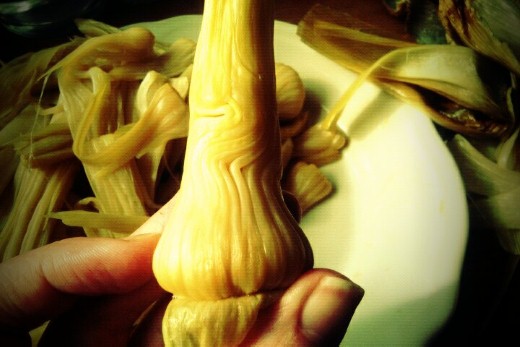 For the nettle pesto we blanched some young nettle tips in boiling water for a minute or so (otherwise tingly tongue will be yours) squeezed the water out of them and chopped, before pestling them up with some garlic, toasted hazelnuts, pecorino romano and olive oil. Each guest got their own little shot glass of pea shoots, to graze over and sprinkle onto their soup. The whole thing tasted – if I may say so myself – like spring in a teacup.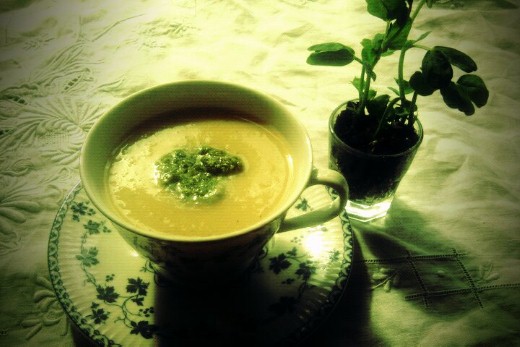 Our second will be in the summer sometime, date to be decided, and it will be even better. Interest is high so if you want first dibs on places, get yourself on the mailing list liaandjuliet@gmail.com as the date will be announced there first. See you then…
PS You can also follow us on twitter @liaandjuliet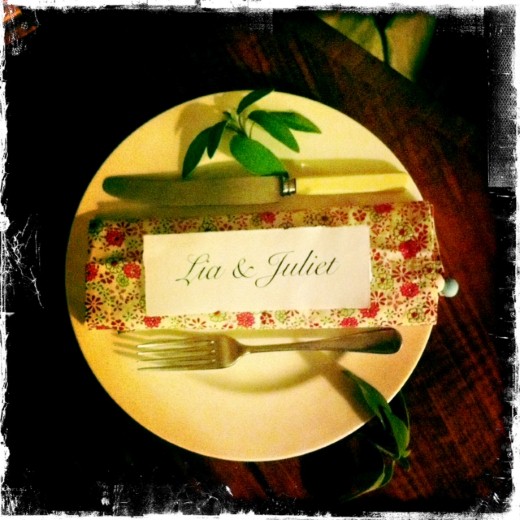 One Sunday last August I was walking back from the allotment with Adam, a friend and neighbour we share our plot  with. It was a glorious summer day and Adam started telling me about the festival of Lammas. It occurs at high summer, not mid-summer (which always feels a bit springy to me) but that point where it really feels like summer: long drawn-out days, lazy times, bounty. Lammas celebrates the first wheat harvest and marks the ripening of the first berries of the year, so you eat bread and blackberries and soak up the good times. Something about this food-based link to the seasons made me look around me properly and completely appreciate that moment: the clear, high, blue summer sky; the kids running in t-shirts and shorts on hot pavements; the wheeling, shrieking swifts; the wheelbarrow full of produce. It's so easy to miss it when you're in it, and only really see it when you look back, on a cold March day.
It started the germ of an idea, about creating a celebration based on whatever is in the allotment or garden at that time to make myself stop and look around and enjoy: comforting, cosy winter squash and roots in autumn and winter, fresh green shoots and herbs in spring, and that joyful, bountiful excess of high summer. I mentioned the idea of a supper club to my friend Juliet Roberts and she got it instantly, the idea of creating something of our own, a little (hopefully) magical way of marking the moment, several times a year.
So here's the plan: this is to be a very modest supper club. We will have four evenings a year, one each in spring, summer, autumn and winter. Sometimes it will be at my house, sometimes at Juliet's. Each evening will start with a little look around the garden and some chat about what we are up to in it, and what you can do to get growing food at that particular time of the year. There will be a cocktail, food, laughs and chat. There will not be big hunks of meat. We are going to play to our strengths and really concentrate on making something special out of the vegetables and fruits of the season. You will bring your own bottle.
It is our chance to have some fun, to meet some interesting people, and to create something of our own. We also want to put our money where our mouths are about growing and eating good, seasonal food, and to show off our gardens. We will do our best to make it a beautiful evening.
Of course we're starting with the trickiest time of the year, the hungry gap, but we think we can make something special of it. It's a time of using up the last preserved food and starting to get the very earliest of the year's produce in. The first date is Saturday 24th March at my house, the cost is £25 per head, and the menu (currently subject to daily change) looks like this:
.
Primrose cocktail
~
Onion marmalade and goats cheese nibbles
~
Green garlic soup with nettle and walnut pesto and pea shoot shot glasses
~
Herb rolls
~
Baked ricotta, braised raddichio, potatoes in sorrel sauce, buttered spring cabbage and purple-sprouting broccoli
(The main course will be served on big shared platters on the table, actually there will be other bits and pieces as well as these here. To be confirmed)
~
Rhubarb upside-down cake with bay ice cream
.
Email us at liaandjuliet@gmail.com to reserve a place or to go on our mailing list, and follow us on twitter @liaandjuliet
Or just wish us luck.
PS It strikes me a little late that I just presumed anyone who might read this would know where I live. It appears they dont. North Bristol.