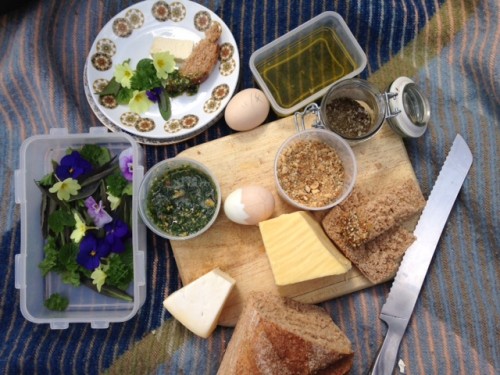 .
A sunny day with nothing to do but hang out with the kids doesn't come along often, and so on Sunday my mind turned to picnics. My birthday is in May, and I have a romantic turn of mind, so I am no stranger to the 'whoah, bugger, it's still WAY too early for a picnic!' style of picnic: pretty tablecloths and sandwich wrappers whisked away on a stiff breeze; blankets intended for lounging instead being fashioned into a swift bivouac against a passing hailstorm, and so on. But still, the weather forecast looked so promising I had even gone without tights (albeit with an emergency pair in my bag) and part of the whole deal with picnics is the triumph of hope over experience. We packed our picnic, brave, optimistic souls.
My new book – my first recipe book – is published in ten days time, and I am all nerves. I wanted to revisit some of the recipes and reassure myself that all is good, plus I thought it would be fun to eat them in the sunshine/unforecasted sleet. The book is called 'Petal, Leaf, Seed: cooking with the treasures of the garden', (and you can preorder it HERE) and it is about all of those delicious little nubs of flavour that you can grow in the garden – although lots of the ingredients can also be bought without too much ado. Over the last few years I have found that I prefer to concentrate on growing a harvest of prettiness and taste than on growing the bulk – rose, calendula and viola petals over potatoes; coconutty fig leaves and sharp, fruity blackcurrant leaves over onions; aniseedy fennel seeds and fat peppery radish seeds over parsnips. And this is what the book is about, the growing and the cooking.
Being in a rush on Sunday morning I went for straightforward picnic fare – bread, hard boiled eggs, cheese, and then something from each section of the book to pep them up: a little salad topped with primroses and violas, a couple of dipping salts made from seeds and nuts; and a herby pesto.
When writing the book I had particularly lovely fun investigating pestos, green sauces and their relatives, and realised that there is a formula that is repeated all over the world with different herbs and accompanying ingredients. Once you have it down pat you can use whatever is at hand and each time come up with something delicious, so here it is: some herbs; a thickener; something umami in flavour; garlic and oil. So bearing that pattern in mind, the classic pesto goes: basil; pine nuts; parmesan; garlic and oil. Then as you move around the Mediterranean you find other versions that change the herbs, omit nuts and cheese but introduce umami in the form of anchovies (salsa verde), or swap basil for tarragon and pine nuts for breadcrumbs (salsa alla dragoncello, from Sienna). There is even laksa pesto in Singapore, thought to have arisen when Portuguese settlers met local ingredients, and made from coriander pounded with cashew nuts and fish sauce. I love a blueprint like this because I think it frees you up to just cook with what's at hand, rather than feeling you have to follow a recipe, and I put pages like this throughout the book.
And hence sure enough the pesto I made for the picnic was in this spirit: parsley and chives; toasted hazelnuts; parmesan; oil, salt and pepper. We dipped the bread and the boiled eggs into it, and ate it with the cheese, and the sun shone, and the children ran around like dogs for a full five hours. I'm afraid I did put my emergency tights on, but that hailstorm never came.
If you would like to have a peak at the book you will find it HERE